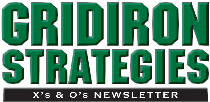 Gridiron Strategies Feb-Mar 2014
© Copyright 2014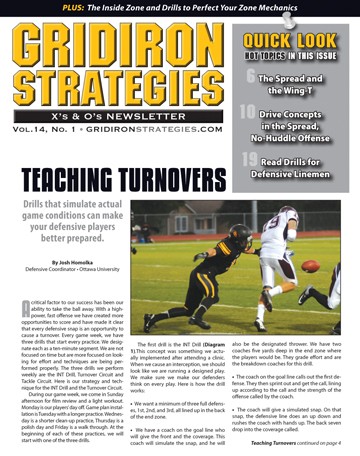 Teaching Turnovers
Letter from the Editor - Shen's Coach
Today's Spread Offenses
Drive Concepts in the Spread No-Huddle Offense
POINT-COUNTERPOINT HALFTIME ADJUSTMENTS Grabowski & Shepas
THE INSIDE ZONE AND DRILLS TO PERFECT YOUR MECHANICS Part II
READ DRILLS FOR DEFENSIVE LINEMEN
BE AS GOOD AS YOU CAN BE
Vince Lombardi on Leadership Part II
MORE ISSUES

X's & O's FROM THE VAULT
Switch Gun Rip 38 Sweep
Myles Holliday Football Coach, Stewart County High School, Dover, Tenn.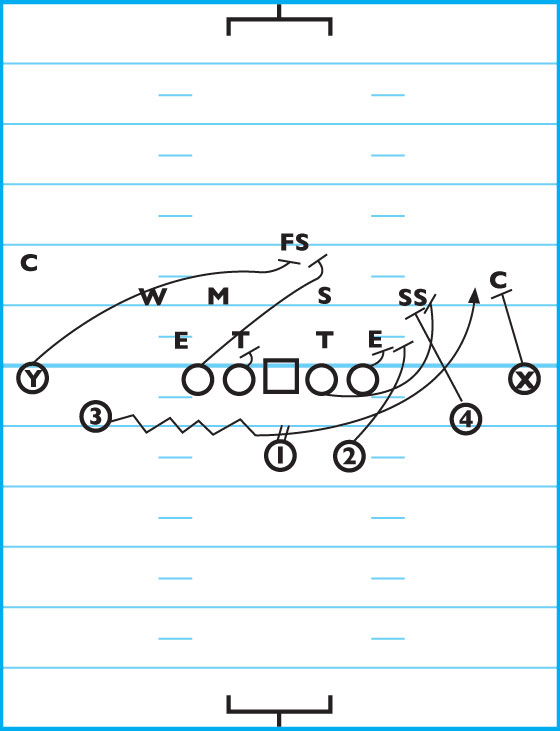 DIAGRAM: 3 goes in motion (RIP) and receives a handoff from the quarterback (1). The QB utilizes a quick snap to get the ball to 3 when he is in a full sprint. 2 and the play-side tackle hook the defensive end and 4 blocks the outside linebacker while X blocks the corner. T
MORE X's & O's

SIGN UP FOR THE
PLAY OF THE WEEK
NEWSLETTER

FEATURE ARTICLES
Teaching Turnovers
by Josh Homolka Defensive Coordinator • Ottawa University
Drills that simulate actual game conditions can make your defensive players better prepared.
A critical factor to our success has been our ability to take the ball away. With a high-power, fast offense we have created more opportunities to score and have made it clear that every defensive snap is an opportunity to cause a turnover. Every game week, we have three drills that start every practice. We designate each as a ten-minute segment. We are not focused on time but are more focused o ...more...



OFFENSE
THE INSIDE ZONE AND DRILLS TO PERFECT YOUR MECHANICS Part II
Chase Harp Offensive Coordinator • Arkansas Tech University

These principles and techniques will force your opponent to play disciplined gap assignment defense.
This is the second part of a two-part series that discusses the inside zone scheme. In the previous issue of Gridiron Strategies, we discussed the number identification system. This article will touch on some of the same principals as befor ...more.




DEFENSE
READ DRILLS FOR DEFENSIVE LINEMEN
Leon Criner Defensive Coordinator • Los Angeles Valley College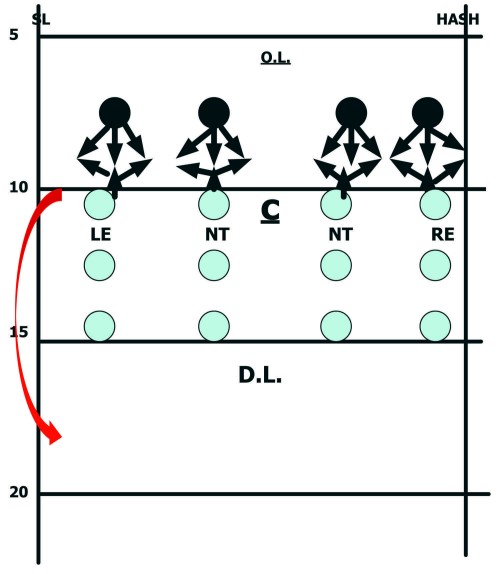 Effective drills should simulate game conditions and be no longer than six seconds.
There is nothing more important in your program than drills. In selecting a drill there are a couple of things you need to consider. For example, the number of drills, the length, tempo, number of players involved, and the results you want. Here are some points to consider:

1. Length - Drills are like a woman's skirt. They need to be long eno ...more.



SPECIAL TEAMS
MAKING THE MOST OF YOUR SPECIAL TEAMS
Tom Watts Head Coach and Matt Brown, Former Tight Ends Coach Ohio Wesleyan University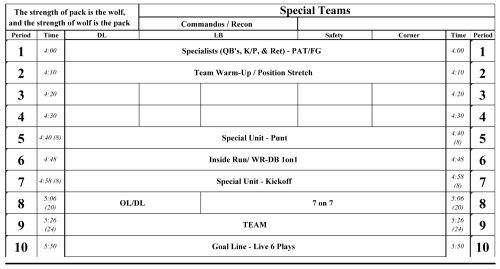 Football coaches spend countless hours researching new techniques and schemes that they can teach to their team to increase their winning percentage. We have a great example this year in the NFL with what the San Francisco 49ers did with their quarterback, Colin Kaepernick, and the Pistol Offense. All of the adjustments you make to your schemes ...more.



STRENGTH & CONDITIONING
Building a Strength Program From the Ground Up "A Work in Progress"
Scott Safe FootballPower.net
I've been a strength coach, weight equipment entrepreneur and speaker for 30 years now, and I consistently get told by high school coaches, "I can never have a strength program like yours". Well, the following story is about a real time "work in progress" at Randolph High School in Randolph, Minnesota, and football/strength coach Aaron Soule. Ra ...more.


DRILLS
The Stick Tackle Drill for Defensive Backs
Gavin Fitts Defensive Backs and Special Teams Coach Framingham State University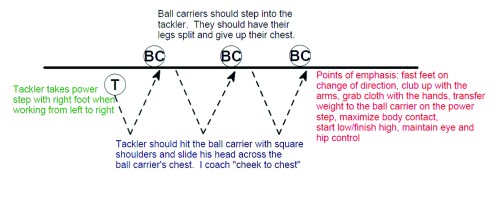 I got this drill from our Defensive Coordinator, Jeff Moore, a 2012 finalist for the Division III football.com's Coordinator of the Year. His defense has led us to a .759 winning percentage since his arrival in 2011. While he is always on the forefront with regard to defensive scheme and philosophy, he is also a big believer in drill mastery and ...more.
MORE X's & O's

Less is More ? Keep it Simple
Summer for football coaches is usually a time to re-charge and plan for the upcoming season.  As we get ready to start the month of August, I wanted to share some thoughts/observations that have been reinforced this summer.  Less is more – the less complicated your system is the more time you have to focus …
Get Your Mind Right
Every year before training camp we all have our rituals and mechanisms that we employ to get us ready for the coming season.  Due to the influence of some very powerful coaches that I have encountered thus far, I try and frame my preparations around: getting ready to make every action player-centered, steadying to focus …
The Flatwoods Legend
*This was originally printed in June, 2013 by the Maysville Ledger Independent It was 1996 and my first trip to Flatwoods to face the Russell Red Devils. It was past 7:30, time for kickoff. And I walked to the hash marks, saying loudly, ?I guess since this is Russell and that is Ivan McGlone, we …
Powering Through the ?Lulls? of Preseason
Recently I sat down with a fellow coach, and with August upon us, the discussion turned to the upcoming preseason.  The main topic was the lull that most of us experience scheduling-wise during preseason. That is,  a week into preseason with a game still two weeks away or classes have begun with a game still …
The Triple Option B-Back
The B-Back is the heart and soul of any triple option offense.  Sometimes called a "fullback", the B-Back must above all be a tough runner, not afraid of contact.  Whether or not he ends up getting the ball during the first phase of the option, he most likely will be hit on every play so …
Home | Magazine | Back Issues | Shopping | Subscribe | Contact

Girdiron Strategies
P.O. Box 14007
North Palm Beach, FL 33407

1-800-537-4271 option 4

Copyright 2014, Gridiron Strategies
a division of
AFM Media, LLC.
All Rights Reserved.