X's & O's FROM THE VAULT
Fake Field Goal
Les Roggenkamp Republican Valley High School, Indianola, Neb.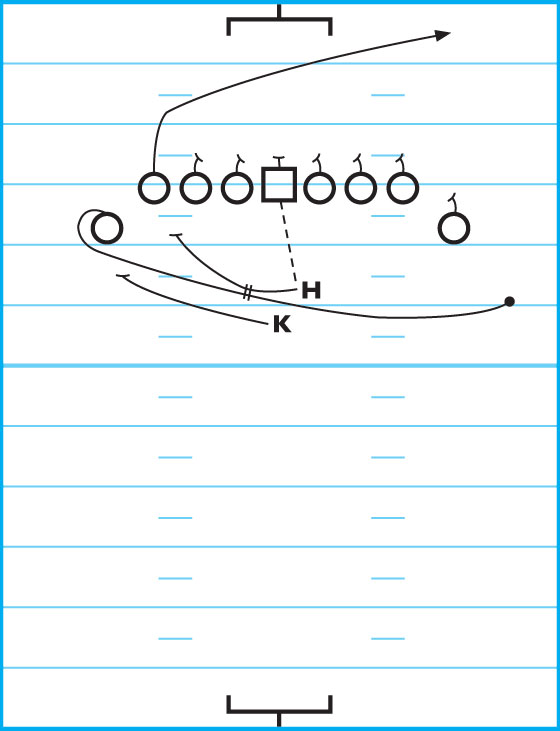 DIAGRAM 1: Snap the ball to the holder. The holder and the kicker run left as if running an option play toward the left side.The left upback reverses out and takes the handoff from the holder.Left tight end drags across behind the secondary near the back of the end zone.
MORE X's & O's

SIGN UP FOR THE
PLAY OF THE WEEK
NEWSLETTER

FEATURE ARTICLES
Supplementing Your Running Game with Screen Concepts
by Ray La Forte Offensive Coordinator • United States Coast Guard Academy
The USCG comes into every game with six different screen plays with each one having multiple variations.
As America's smallest National Service Academy, our cadets are faced with many daily challenges. We have continued to adapt and adjust our football practices to meet the demanding cadet schedules and rigors. Along with academic schedules routinely set at 20 credits and shorter practices come many obstacles. One obstacle that we have normalized over our 16 seasons is our height and we ...more...



OFFENSE
POWER PLAY (GAP SCHEME)
Chennis Berry Offensive Coordinator and Offensive Line Coach Southern University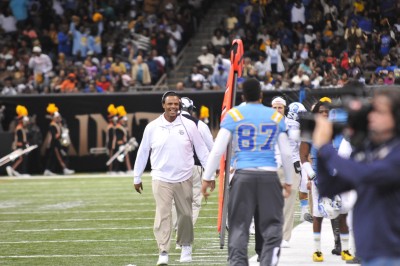 POWER PLAY (GAP SCHEME)
By Chennis Berry, Offensive Coordinator and Offensive Line Coach
Southern University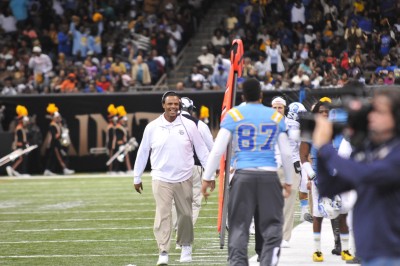 When we ...more.




DEFENSE
DEFENSIVE LINE FUNDAMENTALS
Danny White Defensive Coordinator Madison Ridge Academy (MS)
Fundamentals can be taught in three steps.
more.



SPECIAL TEAMS
PUNT PRESSURE
Michael Cieri Special Teams Coordinator and D-Line Coach Montblair State College
A Two-Tiered Circuit Drill Program That Fine Tunes the Development of Critical Punt Pressure Skills
Once the introductory circuit has taught the players the essential techniques and the coaching staff has evaluated the skill level, tier two is utilized. These drills are more advanced and will concentrate on combining the k ...more.



STRENGTH & CONDITIONING
Using the Clean and Jerk as Your In-Season Workout
Tim Tobin Assistant Coach and Strength and Conditioning Coach, Tusculum College
The clean and jerk is the ideal in-season workout and designed to increase explosiveness.
In our weight room, the clean and jerk is our lift during the season. It builds explosiveness and has shown to keep athletes healthy. The clean primarily works the hamstrings, lattisumus dorsi, biceps, and trapezius muscles. Players learn with this li ...more.


MORE X's & O's

Introduction to the AIR6OFFENSE
AIR6OFFENSE The Air6Offense?s origin dates back to the offseason after the 2008 season. I was the head football coach at Summit Christian Academy, and we were coming off a 2-8 season where we averaged only 32 points per game, which, in sixman football, isn?t a lot. We had been running a standard ?pro-style? sixman offense […]
The Nuts and Bolts of Power Football
The Nuts and Bolts of Power Football   by Joe Hensel – Carthage College   Let?s get right into the topic of power football. I?m going to discuss the 2 back power play and what techniques I teach the offensive line. I will talk about how the fullback and tight end fit into the scheme. […]
The Ultimate Offense ? Run Plays and Concepts (Part III)
  By Bruce Pielstick, Offensive Coordinator MidAmerica Nazarene University       PLAY BLOCKING Point Of RB AIMING STYLE CONCEPT ATTACK POINT   ZONE SCHEMES Inside ZoneVertical ZoneG-Toutside hip G   Outside ZoneReach ZoneTEoutside hip of TE   JetReach ZoneTE or wk OToutside TE or wk OT   GAP SCHEMES PowerDown, Kick & Pull TE […]
THE ULTIMATE OFFENSE ? OFFENSIVE PHILOSOPHY (Part II)
?Multiplicity and Balance with Great Tempo?   By Bruce Pielstick, Offensive Coordinator MidAmerica Nazarene University   MULTIPLE GROUPINGS There will be a wide variety and number of combinations of each position utilized. From 0-3 running backs to 0-3 Tight Ends, to 0-5 Wide Receivers. Plus extra linemen if available and different styles of Quarterbacks.   […]
The ?Ultimate? Offense ? A new way of thinking about Offense (Part I)
  A new way of thinking about Offense By Bruce Pielstick, Offensive Coordinator MidAmerica Nazarene University Every offensive coach in America is looking for the edge or a way to get ahead of their opponent?s defense. There is no question that conducting an organized, quick, efficient offense in the fastest manner possible is a great […]
Home | Magazine | Back Issues | Shopping | Subscribe | Contact

Girdiron Strategies
600 Sandtree Drive, Suite 107
Palm Beach Gardens, FL 33407

1-800-537-4271

Copyright 2018, Gridiron Strategies
a division of
AFM Media, LLC.
All Rights Reserved.