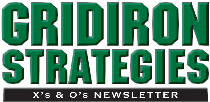 Gridiron Strategies Oct-Nov 2014
© Copyright 2014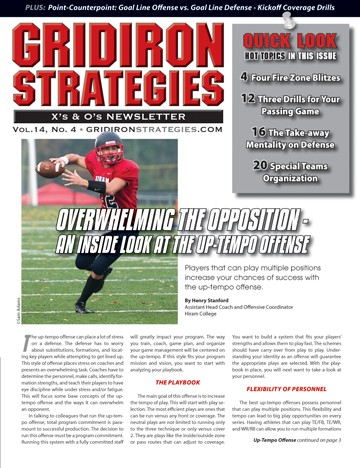 Supplementing Your Running Game with Screen Concepts
Stopping the Up-Tempo, No-Huddle
Defending the Spread Offense
Using Quick Circuits to Maximize Individual Time
Punt Pressure
DEFENSIVE PURSUIT DRILLS
Kickoff Coverage Drills
Using the Clean and Jerk as Your In-Season Workout
POINT-COUNTERPOINT ATTEMPTING A GAME-WINNING FIELD GOAL
MORE ISSUES

X's & O's FROM THE VAULT
Belly Pass Right
Bill Jones Head Coach, Lorain Admiral King High School, Lorain, Ohio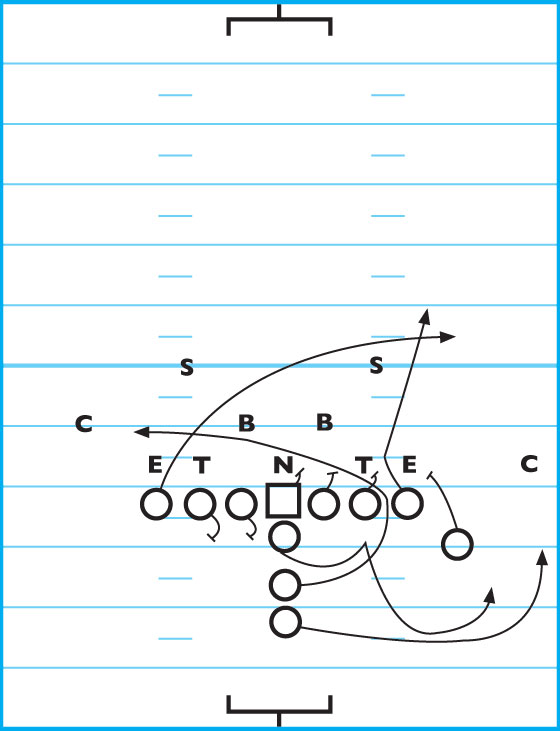 DIAGRAM: Belly Pass Right. This is a terrific run or pass option play for the QB. The QB must use a great fake to the FB to make the right WB's block on the DE easier. The TB sprints for width toward the right sideline and should receive any pass at or behind the LOS. With the triple-threat possibility of a left-end drag route, the QB run or a pass to the TB near the right sideline,
MORE X's & O's

SIGN UP FOR THE
PLAY OF THE WEEK
NEWSLETTER

FEATURE ARTICLES
Supplementing Your Running Game with Screen Concepts
by Ray La Forte Offensive Coordinator • United States Coast Guard Academy
The USCG comes into every game with six different screen plays with each one having multiple variations.
As America's smallest National Service Academy, our cadets are faced with many daily challenges. We have continued to adapt and adjust our football practices to meet the demanding cadet schedules and rigors. Along with academic schedules routinely set at 20 credits and shorter practices come many obstacles. One obstacle that we have normalized over our 16 seasons is our height and we ...more...



OFFENSE
Packaging Plays Part III Packaging Three Concepts Together
Rich Hargitt Assistant Head Coach and Offensive Coordinator • Ashbrook High School (NC)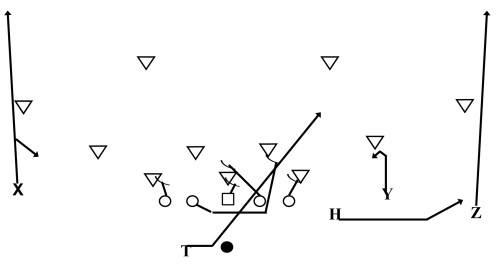 In the previous two articles on packaging plays, we looked at ways to package a pair of concepts together. In this article we are delving into new areas of packaged concepts. We will be looking at packaging three concepts together. The reason that an offensive coach would want to package three concepts together is that it allows the offense to a ...more.




DEFENSE
Defending the Spread Offense
Casey Jacobsen Co-Defensive Coordinator • Morningside College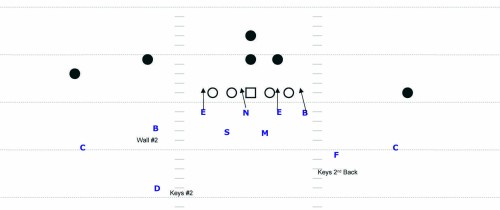 To defend the spread offense, the first thing you have to do is understand WHAT the offense is trying to accomplish and HOW they are trying to accomplish it. There are three things we talk to our defensive players about in regards to the spread and defense in general – numbers, leverage, and matchups. These concepts apply against all offenses, but are magnified against the spread because of spacing.

The spread offense is attem ...more.



SPECIAL TEAMS
Punt Pressure
Michael Cieri Special Teams Coordinator & Defensive Line Coach • Montclair State University
PART 1. A two Tiered Circuit Drill Program that Fine Tunes the Development of Critical Punt Pressure Skills
The Red Hawks football program considers special teams to be "The Core" of the football operation. We firmly believe our offense and defense cannot be successful if "The Core" isn't at its strongest. Our head coach s ...more.



STRENGTH & CONDITIONING
Using the Clean and Jerk as Your In-Season Workout
Tim Tobin Assistant Coach and Strength and Conditioning Coach, Tusculum College
The clean and jerk is the ideal in-season workout and designed to increase explosiveness.
In our weight room, the clean and jerk is our lift during the season. It builds explosiveness and has shown to keep athletes healthy. The clean primarily works the hamstrings, lattisumus dorsi, biceps, and trapezius muscles. Players learn with this li ...more.


DRILLS
Using Quick Circuits to Maximize Individual Time
Mark Reddy Defensive Coordinator • Olivet Nazarene University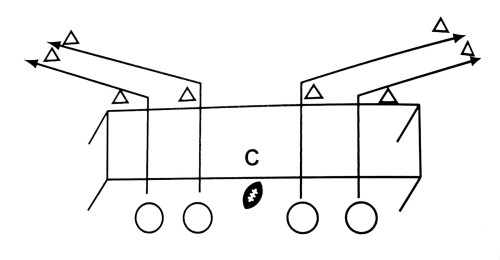 Running, tackling, and turnover circuit drills – if practiced with the proper techniques – will help improve your overall defense.
One of the biggest challenges coaches face is trying to get everything to fit into their practice plan. It doesn't seem to matter the length of practice – you always feel like you could use a l ...more.
MORE X's & O's

A Tough Season, A Good Season ? Remembering My Dad
After starting the season 0-5, we finished the season with 6 straight wins including a district championship and two home playoff games. I was very proud of the toughness displayed by our kids and staff. During the season, three of us lost our dads. It was a brutal time but we fought through it together. …
Coach Russell?s Ruminations ? November
The thought I'd like to share with you this month started in the form of a question I was asked… "Were you embarrassed?" That question was asked after I presented an award at our annual football banquet last February. Our tradition here dictates that the position coach presents the award if a member of his …
Digital Signage is Changing the Play
By: Jonathan Priestley Display technology is making a splash in the sports arena. For fans and sports teams alike, the incorporation of interactive touch displays opens a new world of possibilities ? one in which fans are more immersed in the game and coaches can make more informed decisions on the field. This technology is …
Pass Rush ? ?Work a Move?
In our efforts to create pressure on the quarterback and register sacks we often dismiss the production of the pass rusher as something that occurs as either a function of extreme talent or because the individual simply "just beat" the man in front of him.  To be sure, if a guy can't get off and …
Coach Russell?s Ruminations ? October
In this great game of ours, we talk a lot about the culture of our programs. We frequently use terms like ?family? and ?one heartbeat?. An interaction I had with a player recently led me to spend some time thinking about these terms, and how they tie in to other factors a successful team might …
Home | Magazine | Back Issues | Shopping | Subscribe | Contact

Girdiron Strategies
P.O. Box 14007
North Palm Beach, FL 33407

1-800-537-4271 option 4

Copyright 2015, Gridiron Strategies
a division of
AFM Media, LLC.
All Rights Reserved.