Gridiron Strategies Jun-Jul 2016
© Copyright 2016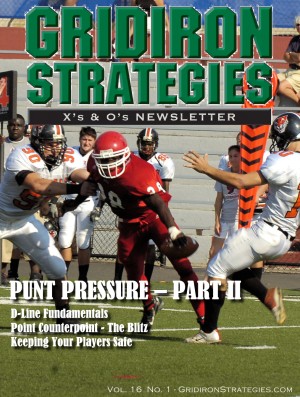 Point-Counterpoint: The Blitz – How to Defend it vs. How to Make it as Efficient as Possible
PUNT PRESSURE
DEFENSIVE LINE FUNDAMENTALS
How to Keep your Players Safe and Injury Free
Lombardi: The Lombardi You Thought You Knew
MORE ISSUES

X's & O's FROM THE VAULT
Spread Right, Slam 26 Zone
Paul Janson Junior Varsity Football Coach, Pine City High School, Pine City, Minn.
DIAGRAM 1: Spread Right, 26 Slam Zone (A). The QB hands the ball off deep to the TB, who aims toward the outside hip of the offensive tackle and reads the block. Normal zone blocking rules apply, except that the inside slot back will crack back on the LB and the OG looks to lead up the hole after being bumped by the center. The TB should be abe to get to either the perimeter or cut up an alley.
MORE X's & O's

SIGN UP FOR THE
PLAY OF THE WEEK
NEWSLETTER

FEATURE ARTICLES
Supplementing Your Running Game with Screen Concepts
by Ray La Forte Offensive Coordinator • United States Coast Guard Academy
The USCG comes into every game with six different screen plays with each one having multiple variations.
As America's smallest National Service Academy, our cadets are faced with many daily challenges. We have continued to adapt and adjust our football practices to meet the demanding cadet schedules and rigors. Along with academic schedules routinely set at 20 credits and shorter practices come many obstacles. One obstacle that we have normalized over our 16 seasons is our height and we ...more...



OFFENSE
Packaging Plays Part III Packaging Three Concepts Together
Rich Hargitt Assistant Head Coach and Offensive Coordinator • Ashbrook High School (NC)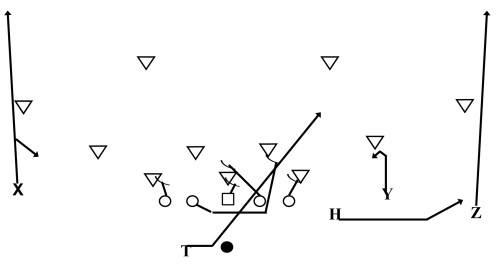 In the previous two articles on packaging plays, we looked at ways to package a pair of concepts together. In this article we are delving into new areas of packaged concepts. We will be looking at packaging three concepts together. The reason that an offensive coach would want to package three concepts together is that it allows the offense to a ...more.




DEFENSE
DEFENSIVE LINE FUNDAMENTALS
Danny White Defensive Coordinator Madison Ridge Academy (MS)
Fundamentals can be taught in three steps.
more.



SPECIAL TEAMS
PUNT PRESSURE
Michael Cieri Special Teams Coordinator and D-Line Coach Montblair State College
A Two-Tiered Circuit Drill Program That Fine Tunes the Development of Critical Punt Pressure Skills
Once the introductory circuit has taught the players the essential techniques and the coaching staff has evaluated the skill level, tier two is utilized. These drills are more advanced and will concentrate on combining the k ...more.



STRENGTH & CONDITIONING
Using the Clean and Jerk as Your In-Season Workout
Tim Tobin Assistant Coach and Strength and Conditioning Coach, Tusculum College
The clean and jerk is the ideal in-season workout and designed to increase explosiveness.
In our weight room, the clean and jerk is our lift during the season. It builds explosiveness and has shown to keep athletes healthy. The clean primarily works the hamstrings, lattisumus dorsi, biceps, and trapezius muscles. Players learn with this li ...more.


DRILLS
Using Quick Circuits to Maximize Individual Time
Mark Reddy Defensive Coordinator • Olivet Nazarene University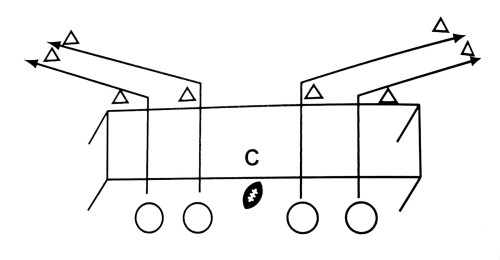 Running, tackling, and turnover circuit drills – if practiced with the proper techniques – will help improve your overall defense.
One of the biggest challenges coaches face is trying to get everything to fit into their practice plan. It doesn't seem to matter the length of practice – you always feel like you could use a l ...more.
MORE X's & O's

When I Was Your Age
By John Scanlan WHACK! Just like that, our new head football coach hit me in the facemask with his clipboard. It was during August two-a-days in the summer of 1974. In an attempt to motivate the scout team defense to perform better against his number one offense, he had delivered the clipboard?s downward blow to …
Saban: The Making of a Coach
Nick  Saban is  considered the  most   enigmatic person  in  the  world of college football.. His skills have resulted in packed stadiums, a consistently winning program at the highest level, countless NFL draft picks and four national championships. Saban: The Making of a Coach, by Monte  Burke,  is  an  in-depth  look  at this both  influential  and  …
Qualities ? Including the Intangibles ? Needed To Be a Successful Quarterback
The one person most responsible for an effective offensive attack is the quarterback. He is an integral and important part of the offense and his ability alone will often make the difference between a good attack and a great one. The quarterback should have outstanding athletic ability, be superbly coordinated, mentally alert and physically strong. …
Freshman Development ? Analyze, Apply, Adapt (Part II)
By Bryan Miller, Assistant Strength and Conditioning Coach United States Naval Academy Below is an example of my Analyze, Apply, and Adapt training template. It is a general overview of some of the physical categories that freshmen football players typically display (this is a general list, not in any specific order and not all inclusive): …
Beyond the Scoreboard: What Football Means to Me ? Win or Lose
The mention of love in society generally conjures visions of hearts and flowers, creating a Disney-like mental picture of romantic relationships. The masculinity and machismo often associated with the gridiron does not immediately surface in this affectionate imagery. Still, love certainly permeates throughout the personal connections and bonds formed during pigskin participation. While traditional correspondence …
Home | Magazine | Back Issues | Shopping | Subscribe | Contact

Girdiron Strategies
P.O. Box 14007
North Palm Beach, FL 33407

1-800-537-4271 option 4

Copyright 2016, Gridiron Strategies
a division of
AFM Media, LLC.
All Rights Reserved.