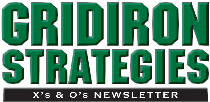 Gridiron Strategies Aug-Sep 2014
© Copyright 2014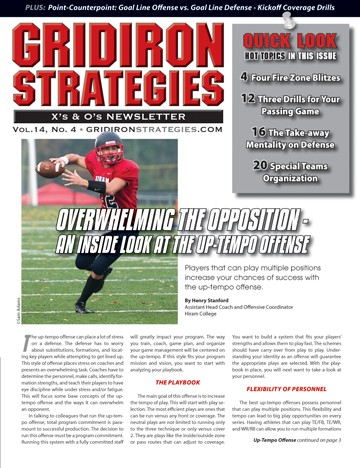 Overwhelming the Opposition - An Inside Look at the Up-Tempo Offense
Special Teams
4 FIRE ZONE BLITZES FROM THE 3-4 "BLACK HOLE" DEFENSE
Packaging Plays Part III Packaging Three Concepts Together
Eight Daily Areas of Defensive Emphasis
Effective Blitz Packages
3 Drills to Improve Your Passing Game
The Take-Away Mentality on Defense
Special Teams Organization
POINT-COUNTERPOINT Goal Line Offense vs. Defense
MORE ISSUES

X's & O's FROM THE VAULT
Pass Play Vs. Prevent Defense
Brad Dehem Assistant Coach, First Presbyterian Day School, Macon, Ga.
THIS IS A GREAT play against a conservative secondary or a prevent defense. Tighten receiver X's alignment and drag him across to hold the linebackers. 2 and 3 receivers are the "secondary stretchers" and aren't in the QB's read. They need to push the safety and the corner deep and as fast as possible.Throw to receiver 1 as he runs a deep post 20 to 22 yards. Because of the alignment, 1
MORE X's & O's

SIGN UP FOR THE
PLAY OF THE WEEK
NEWSLETTER

FEATURE ARTICLES
Overwhelming the Opposition - An Inside Look at the Up-Tempo Offense
by Henry Stanford Assistant Head Coach and Offensive Coordinator Hiram College
Players that can play multiple positions increase your chances of success with the up-tempo offense.
The up-tempo offense can place a lot of stress on a defense. The defense has to worry about substitutions, formations, and locating key players while attempting to get lined up. This style of offense places stress on coaches and presents an overwhelming task. Coaches have to determine the personnel, make calls, identify formation strengths, and teach their players to have eye discipline ...more...



OFFENSE
Packaging Plays Part III Packaging Three Concepts Together
Rich Hargitt Assistant Head Coach and Offensive Coordinator • Ashbrook High School (NC)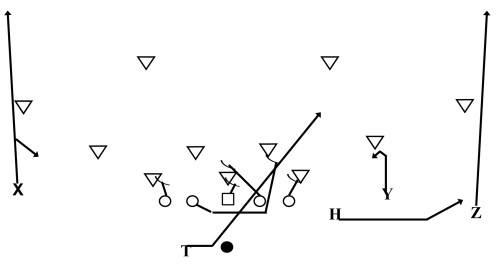 In the previous two articles on packaging plays, we looked at ways to package a pair of concepts together. In this article we are delving into new areas of packaged concepts. We will be looking at packaging three concepts together. The reason that an offensive coach would want to package three concepts together is that it allows the offense to a ...more.




DEFENSE
Eight Daily Areas of Defensive Emphasis
Dr. Keith Pigott Defensive Coordinator and Safeties Coach East Texas Baptist University
Ideally, coaches want their defensive players to be smart, fast, and physical.
I was hired in February, 2013 by first year Head Coach, Joshua Eargle. We were Graduate Assistants together in 2006 at Southern Mississippi and kept in touch over the years. Our first season at ETBU was filled with ups and downs. We started off 2 – 0 for the first time in school history. Defensively, we gave up 34 points in the first game and 10 points in the ...more.



SPECIAL TEAMS
Special Teams Organization
Mike Mendenhall Special Teams Coordinator and Linebackers Coach - North Carolina Central University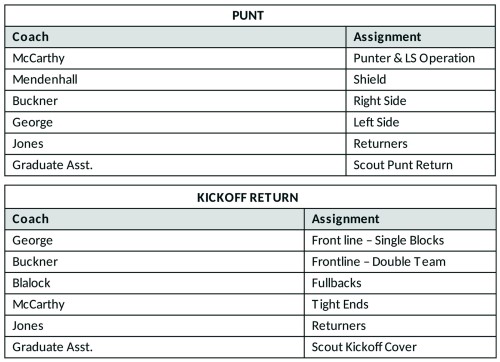 Having specific responsibilities for each coach related to special teams play will help improve overall efficiency.
This article will provide ways for football programs to stay organized in their special teams approach toward practice and meetings. I have been coaching special teams for five years and coordinating for three years. I have l ...more.



STRENGTH & CONDITIONING
Targeting the core
Tim Tobin - Assistant Coach - Tusculum College Stella Tobin - Certified Training Consultant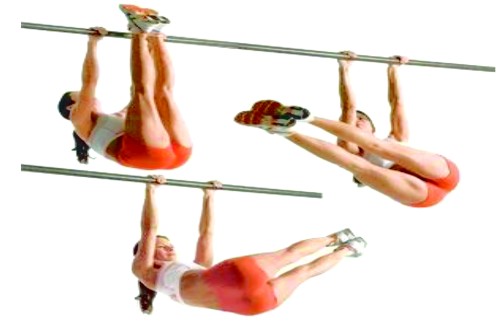 To improve athletic performance, one of the most important muscles to train is the core. Most people think that a strong core is just having a defined looking six pack, but, although pretty, abs and obliques are only the outer core and move the torso by bending forward, sideways and twisting.

The real foundation of the body, where st ...more.


DRILLS
4 FIRE ZONE BLITZES FROM THE 3-4 "BLACK HOLE" DEFENSE
Jared Van Acker Freedom (South Riding) High School (VA)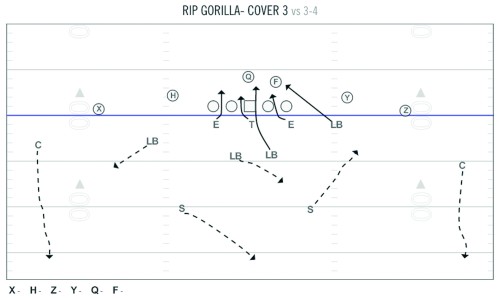 This zone blitz scheme adds additional pressure to the offense but still remains solid with secondary coverage.
Traditionally, we have always been a multiple defensive system that morphs with the changes and tendencies of an opponent's offense. Though I have transitioned from an odd (3-4, 5-2, and 5-3) or an even (4-3, 4-4) as a base core ...more.
MORE X's & O's

High school coaches getting more college looks
The success of former high school coaches at the collegiate level has opened the door for many current high school coaches to make the jump. No region has seen as many opportunities afforded to it than Texas — specifically the Dallas-Forth Worth Metroplex, which just added its fifth move made this offseason. The latest coach …
Recruit Night: Recruiting kids to football in the 21st century
      We started something here a few years ago that has become a great way to transition our 8th graders to HS football and introduce their parents to our football coaches and program. As a staff, we call it ?recruit night?. We try to pattern it after a college recruiting weekend visit. We …
Deflate Gate ? Brady is Getting a Bum Rap
The Following from a long time fan of Football: A Rocket Scientist?former head of space transportation for a major U.S. corporation??.   Being a fellow Wolverine, I've always liked Tom Brady.  He is getting a bum rap.  I can prove it.   People say temperature could not account for the temperature to make the difference between …
In Season QB Drills For Improved Decision Making
At Meade HS (MD), we have not had the luxury of bringing a QB up through our system. This is due to military transfers as we are located on Fort Meade. We must spend a good deal of time training the footwork and fundamentals when we are allowed to in the off season and summer. …
Practicing vs. Option Offenses: What We Do to Teach Assignment Football
One of the hardest things to teach a defense to do is to play assignment football. When we are faced with this problem, we do some things to help out players to play their assignments and slow down the option offense. Each player must understand what assignment they have in our base defense, blitz defense …
Home | Magazine | Back Issues | Shopping | Subscribe | Contact

Girdiron Strategies
P.O. Box 14007
North Palm Beach, FL 33407

1-800-537-4271 option 4

Copyright 2015, Gridiron Strategies
a division of
AFM Media, LLC.
All Rights Reserved.