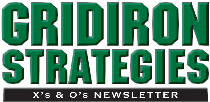 Gridiron Strategies Apr-May 2014
© Copyright 2014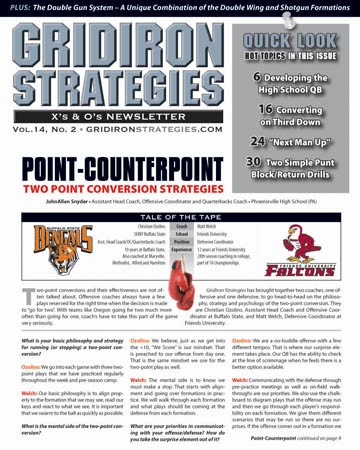 POINT-COUNTERPOINTTWO POINT CONVERSION STRATEGIES
Next Man Up
Developing the High School Quarterback
BE AS GOOD AS YOU CAN BE Part II
Packaging Plays Part I Introduction to Packaging
CONVERTING ON THIRD DOWN: KEEPING YOUR OFFENSE ON THE FIELD
The Double Gun System A Unique Combination of the Double Wing and Shotgun Formations
NEXT MAN UP: Portland States Rite of Passage
CREATING TURNOVERS
TWO SIMPLE PUNT BLOCK/RETURN DRILLS
MORE ISSUES

X's & O's FROM THE VAULT
Wingback Motion Pass
Robert Knight Preston High School, Kingwood, W.V.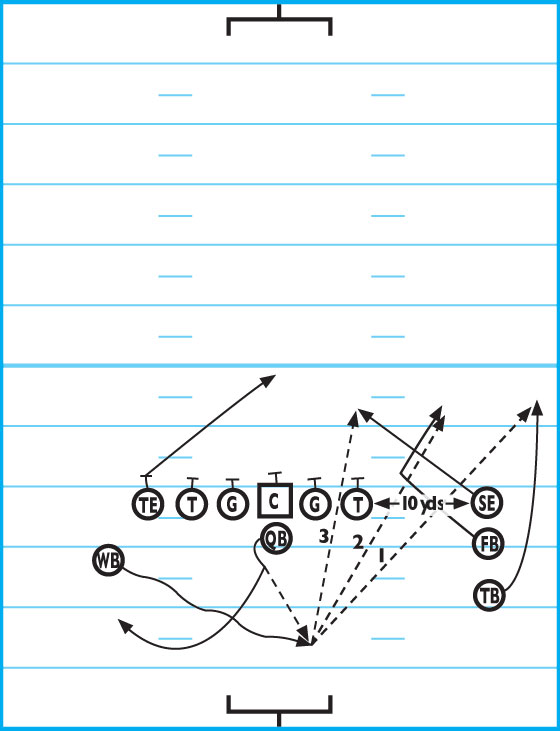 During the strategy of a game, one play is used to set up another. Here are two companion plays used to set up and trick your opponents.Diagram 1: Pass "A." This play is set up with a split end and twins right (in a stack formation). The wingback is put in motion to receive a pitch from the quarterback. The QB should use a 2-hand underhand pitch. After the pitch, the QB bootlegs to t
MORE X's & O's

SIGN UP FOR THE
PLAY OF THE WEEK
NEWSLETTER

FEATURE ARTICLES
POINT-COUNTERPOINTTWO POINT CONVERSION STRATEGIES
by JohnAllen Snyder • Assistant Head Coach, Offensive Coordinator and Quarterbacks Coach • Phoenixville High School (PA)
Two-point conversions and their effectiveness are not often talked about. Offensive coaches always have a few plays reserved for the right time when the decision is made to "go for two". With teams like Oregon going for two much more often than going for one, coach's have to take this part of the game very seriously.
Gridiron Strategies has brought together two coaches, one offensive and one defensive, to go head-to-head on the philosophy, strategy and psychology of the two-point conve ...more...



OFFENSE
Developing the High School Quarterback
Gene Suhr Retired College and High School Coach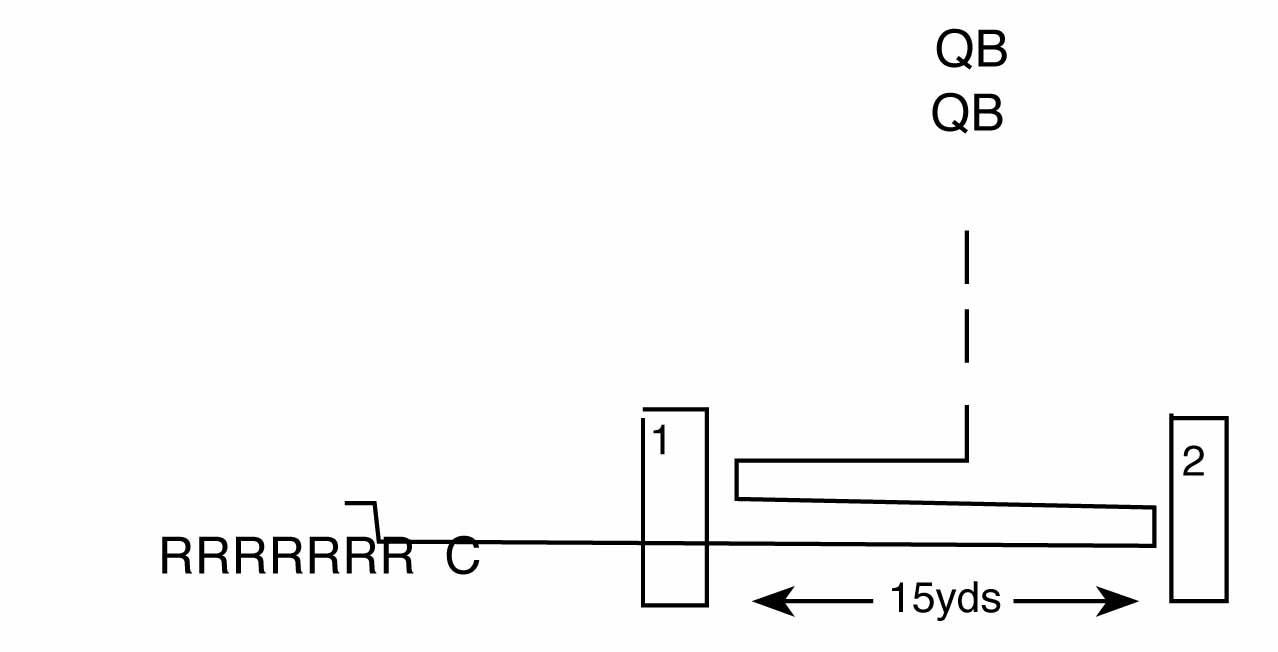 Proper techniques – from having the correct grip to managing footwork during passing drops – can improve
the mechanics of your quarterback.

There is an old coaching adage that "you can't change a throwing motion." A QB can either throw or he can't. Many coaches pass the ball when ...more.




DEFENSE
CREATING TURNOVERS
Lance Heron Defensive Coordinator Clarence Fulton High School • Vernon, British Columbia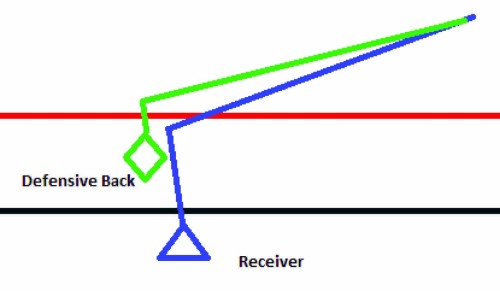 Here are two drills specifically designed to help your team cause a turnover.
There is no faster method for changing the momentum of a football game than a turnover. A winning team turns the ball over much less than a losing one. There are several drills which a coach can use to help their defense create turnovers during games.

Defensive Backs

Coaches need to teach their defensive backs to catch the ball at its highes ...more.



SPECIAL TEAMS
TWO SIMPLE PUNT BLOCK/RETURN DRILLS
Mark Theophel Defensive Backs Coach • Hartwick College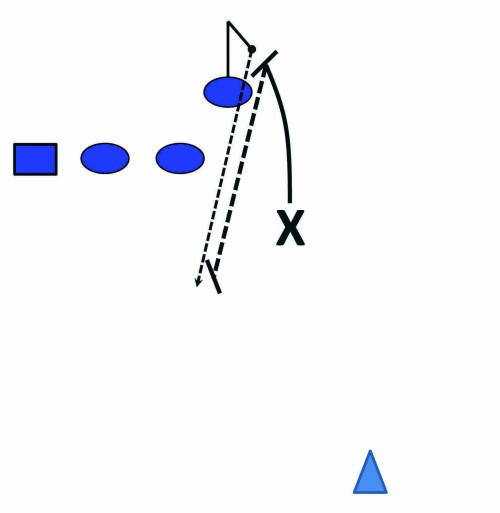 The Pin Drill and the Half-Line Rush Drill can help increase the odds of your special teams unit successfully blocking a punt.
A punt block/return team that is well-coached in their technique can be the catalyst for game-changing plays and provide consistently great field position throughout games. This special teams unit can be the most d ...more.



STRENGTH & CONDITIONING
Building a Strength Program From the Ground Up "A Work in Progress"
Scott Safe FootballPower.net
I've been a strength coach, weight equipment entrepreneur and speaker for 30 years now, and I consistently get told by high school coaches, "I can never have a strength program like yours". Well, the following story is about a real time "work in progress" at Randolph High School in Randolph, Minnesota, and football/strength coach Aaron Soule. Ra ...more.


DRILLS
The Stick Tackle Drill for Defensive Backs
Gavin Fitts Defensive Backs and Special Teams Coach Framingham State University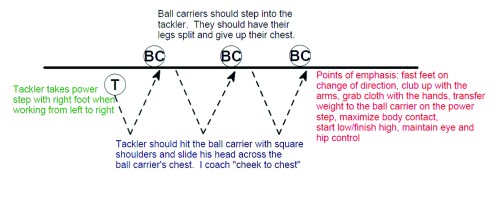 I got this drill from our Defensive Coordinator, Jeff Moore, a 2012 finalist for the Division III football.com's Coordinator of the Year. His defense has led us to a .759 winning percentage since his arrival in 2011. While he is always on the forefront with regard to defensive scheme and philosophy, he is also a big believer in drill mastery and ...more.
MORE X's & O's

EARLY ACTION EQUALS RESULTS
One of the things that goes forgotten as we enter the game weeks of the football calendar and are focused on specific actions towards an individual opponent is the ability to make sure that we are checking in with our players on if they are falling behind cognitively, emotionally, or spiritually.  It is easy to …
Making Offensive Personnel Groupings Easy For Your Players (And You)
I was recently asked by a friend how to make sense of utilizing multiple offensive personnel groupings and make it simple enough for all players to understand.  Years ago I went from just one personnel group to multiple personnel groupings and was faced with the same question.  I wasn't a numbers guy so the tried …
Trusting God and Doing What You Do
I?ve never personally met Coach Tony Dungy but, along with my dad, he has helped me to change for the better so that my wife, Stephanie, hasn?t kicked me out of the house after 21 years of living with a psycho football coach. My dad and Steele Harmon became big fans of Coach Dungy because …
Showing Triple?Running Double
Not every coach wants to run a true triple option offense for a number of reasons. One of the main reasons is the perception that truly mastering the triple play is time consuming and very difficult. While this is certainly not true, one alternative that I tell coaches who want to run some option but …
Fostering Relationships With the Coaches on the Staff: Getting What You Need to Get Done
  The coaches on a staff are like any other group in an office, school or place of work; they all have unique personalities and talents that can be used to make an efficient working unit. You may not like an individual, others may grate on you, some know too much, and others don?t know …
Home | Magazine | Back Issues | Shopping | Subscribe | Contact

Girdiron Strategies
P.O. Box 14007
North Palm Beach, FL 33407

1-800-537-4271 option 4

Copyright 2014, Gridiron Strategies
a division of
AFM Media, LLC.
All Rights Reserved.