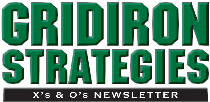 Gridiron Strategies Aug-Oct 2014
© Copyright 2014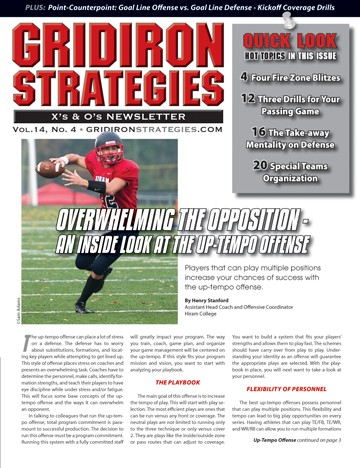 Overwhelming the Opposition - An Inside Look at the Up-Tempo Offense
Special Teams
4 FIRE ZONE BLITZES FROM THE 3-4 "BLACK HOLE" DEFENSE
Packaging Plays Part III Packaging Three Concepts Together
Eight Daily Areas of Defensive Emphasis
Effective Blitz Packages
3 Drills to Improve Your Passing Game
The Take-Away Mentality on Defense
Special Teams Organization
POINT-COUNTERPOINT Goal Line Offense vs. Defense
MORE ISSUES

X's & O's FROM THE VAULT
Goal-Line Special Or 2-Point Conversion
Kim Nelson Head Football Coach, Washington High School, Sioux Falls, S.D.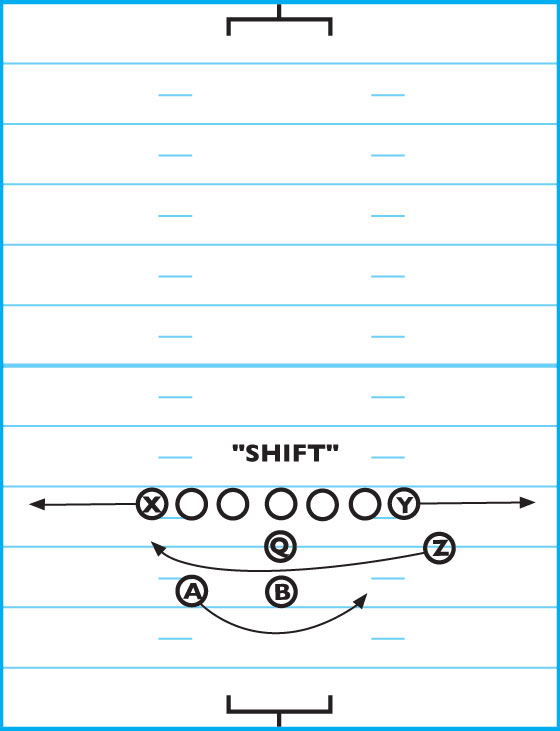 DIAGRAM 1: This is one of our most effective goal-line or 2-point conversion plays. We have had over a 90-percent success rate using this play. Start in a tight wing formation and, on sound, the players shift to a spread formation with the backs flipping to the other side. If the defense is in man coverage, they may try to switch men and become confused.
MORE X's & O's

SIGN UP FOR THE
PLAY OF THE WEEK
NEWSLETTER

FEATURE ARTICLES
Overwhelming the Opposition - An Inside Look at the Up-Tempo Offense
by Henry Stanford Assistant Head Coach and Offensive Coordinator Hiram College
Players that can play multiple positions increase your chances of success with the up-tempo offense.
The up-tempo offense can place a lot of stress on a defense. The defense has to worry about substitutions, formations, and locating key players while attempting to get lined up. This style of offense places stress on coaches and presents an overwhelming task. Coaches have to determine the personnel, make calls, identify formation strengths, and teach their players to have eye discipline ...more...



OFFENSE
Packaging Plays Part III Packaging Three Concepts Together
Rich Hargitt Assistant Head Coach and Offensive Coordinator • Ashbrook High School (NC)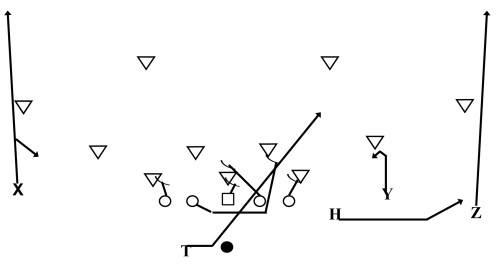 In the previous two articles on packaging plays, we looked at ways to package a pair of concepts together. In this article we are delving into new areas of packaged concepts. We will be looking at packaging three concepts together. The reason that an offensive coach would want to package three concepts together is that it allows the offense to a ...more.




DEFENSE
Eight Daily Areas of Defensive Emphasis
Dr. Keith Pigott Defensive Coordinator and Safeties Coach East Texas Baptist University
Ideally, coaches want their defensive players to be smart, fast, and physical.
I was hired in February, 2013 by first year Head Coach, Joshua Eargle. We were Graduate Assistants together in 2006 at Southern Mississippi and kept in touch over the years. Our first season at ETBU was filled with ups and downs. We started off 2 – 0 for the first time in school history. Defensively, we gave up 34 points in the first game and 10 points in the ...more.



SPECIAL TEAMS
Special Teams Organization
Mike Mendenhall Special Teams Coordinator and Linebackers Coach - North Carolina Central University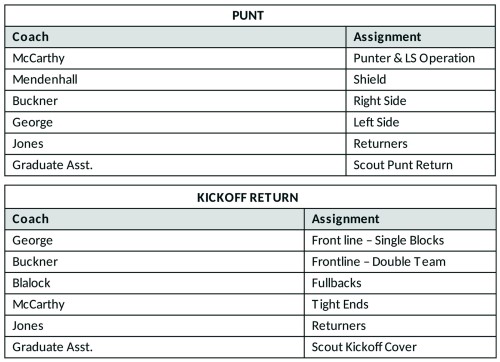 Having specific responsibilities for each coach related to special teams play will help improve overall efficiency.
This article will provide ways for football programs to stay organized in their special teams approach toward practice and meetings. I have been coaching special teams for five years and coordinating for three years. I have l ...more.



STRENGTH & CONDITIONING
Targeting the core
Tim Tobin - Assistant Coach - Tusculum College Stella Tobin - Certified Training Consultant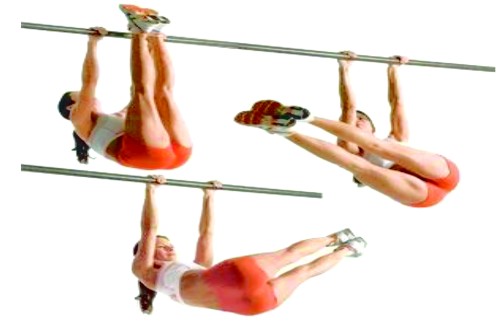 To improve athletic performance, one of the most important muscles to train is the core. Most people think that a strong core is just having a defined looking six pack, but, although pretty, abs and obliques are only the outer core and move the torso by bending forward, sideways and twisting.

The real foundation of the body, where st ...more.


DRILLS
4 FIRE ZONE BLITZES FROM THE 3-4 "BLACK HOLE" DEFENSE
Jared Van Acker Freedom (South Riding) High School (VA)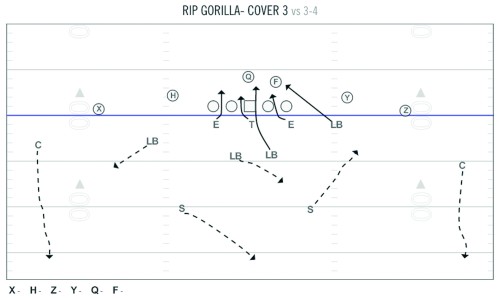 This zone blitz scheme adds additional pressure to the offense but still remains solid with secondary coverage.
Traditionally, we have always been a multiple defensive system that morphs with the changes and tendencies of an opponent's offense. Though I have transitioned from an odd (3-4, 5-2, and 5-3) or an even (4-3, 4-4) as a base core ...more.
MORE X's & O's

Blanton Collier: Coaching the Eyes, Leading the Heart
?You can accomplish a lot if you don?t care who gets the credit.? This Blanton Collier quote is posted in our weight room. During my eight years in Paris, I really enjoyed meeting people that knew Coach Collier. His daughter, Kay Collier McLaughlin, wrote 'Football?s Gentle Giant: The Blanton Collier Story.' Coach Bill Arnsparger also …
Hanging Tough in Tough Times
We either have experienced it or will experience it at one or more times as a coach. Anticipation of a successful season is suddenly tempered by key injuries, a tough schedule, and coming up short in the "battle of inches". This set of circumstances is a real opportunity to find out about ourselves as individuals …
Commentary: California Ready to Chase the Dollar
 In a world where money talks and participation trophies are becoming the norm, high school football state championships appear to be the next frontier for those that believe everyone is a winner and every revenue stream should be tapped until it runs dry.     The California Interscholastic Federation (CIF) is considering a proposal to expand …
Putting Together and Practicing a Game Plan
The season has reached the point where you?ve been able to see plenty of film on opponents and you know what they will do against certain formations and in certain situations. Of course, the opponent knows the same things about you. With rivalry games ahead or playoffs starting, now is a time to get the …
Running a Better Team Session by Hindering the DL to Have More Players Make Plays in Team Sessions
By Ned Panfile   We often have trouble with our 'look squad' blocking our defensive linemen during our team defense session. No matter how much we tell the D-line to back off, we can't get a view about how well other people make plays. We often do two different things to better the view during …
Home | Magazine | Back Issues | Shopping | Subscribe | Contact

Girdiron Strategies
P.O. Box 14007
North Palm Beach, FL 33407

1-800-537-4271 option 4

Copyright 2014, Gridiron Strategies
a division of
AFM Media, LLC.
All Rights Reserved.