Vol I - 2017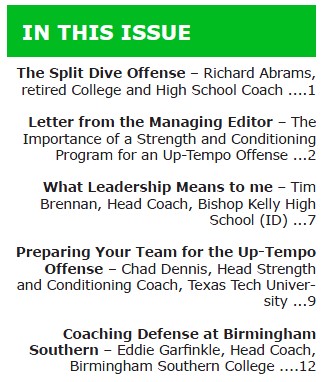 X's & O's FROM THE VAULT
Guns Right, 435 Screen Left
Kim Nelson Head Football Coach, Edina High School, Edina, Minn.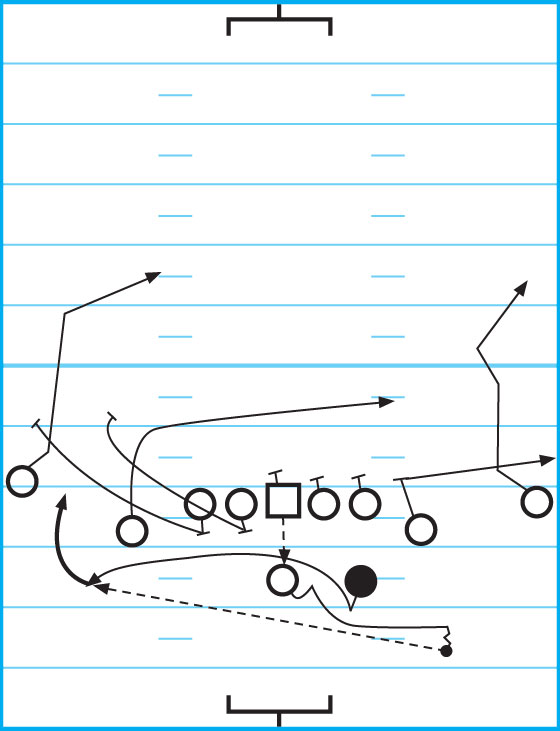 DIAGRAM: This play has been very successful for my teams over the years. The QB uses play-action, rolls to the right looking at the receivers on the right side and then throws back to the tailback on the back side. The left OT and OG pull and block for the screen pass, while th
MORE X's & O's

SIGN UP FOR THE
PLAY OF THE WEEK
NEWSLETTER

FEATURE ARTICLES
Supplementing Your Running Game with Screen Concepts
by Ray La Forte Offensive Coordinator • United States Coast Guard Academy
The USCG comes into every game with six different screen plays with each one having multiple variations.
As America's smallest National Service Academy, our cadets are faced with many daily challenges. We have continued to adapt and adjust our football practices to meet the demanding cadet schedules and rigors. Along with academic schedules routinely set at 20 credits and shorter practices come many obstacles. One obstacle that we have normalized over our 16 seasons is our height and we ...more...



OFFENSE
POWER PLAY (GAP SCHEME)
Chennis Berry Offensive Coordinator and Offensive Line Coach Southern University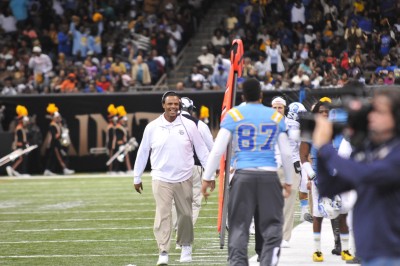 POWER PLAY (GAP SCHEME)
By Chennis Berry, Offensive Coordinator and Offensive Line Coach
Southern University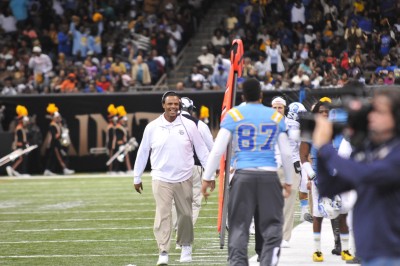 When we ...more.




DEFENSE
DEFENSIVE LINE FUNDAMENTALS
Danny White Defensive Coordinator Madison Ridge Academy (MS)
Fundamentals can be taught in three steps.
more.



SPECIAL TEAMS
PUNT PRESSURE
Michael Cieri Special Teams Coordinator and D-Line Coach Montblair State College
A Two-Tiered Circuit Drill Program That Fine Tunes the Development of Critical Punt Pressure Skills
Once the introductory circuit has taught the players the essential techniques and the coaching staff has evaluated the skill level, tier two is utilized. These drills are more advanced and will concentrate on combining the k ...more.



STRENGTH & CONDITIONING
Using the Clean and Jerk as Your In-Season Workout
Tim Tobin Assistant Coach and Strength and Conditioning Coach, Tusculum College
The clean and jerk is the ideal in-season workout and designed to increase explosiveness.
In our weight room, the clean and jerk is our lift during the season. It builds explosiveness and has shown to keep athletes healthy. The clean primarily works the hamstrings, lattisumus dorsi, biceps, and trapezius muscles. Players learn with this li ...more.


DRILLS
Pass Protection The Cone Drill
Jim Hanifan former NFL Offensive Line Coach
Pass Protection The Cone Drill (offensive tackles) ...
more
.
MORE X's & O's

All 4 One Wide Receiver Drill
Last week of special pricing on No Huddle No Mercy System All 4 One Wide Receiver Drill By Toryeon Hester, Wide Receivers Coach Shaw University I always tell my guys, it is easy for wide receivers to run routes when the defender is playing a couple of yards off. The challenge comes when the defender …
Getting More from Your Training: Training for the Point of Contact
  By Nick Pinkelman, Owner and Athletics Performance Director Fast to Precise Performance Nick@ f2pperfomance.com Most football plays are won and lost at the point of contact. Being able to over-power your opponent in an instant is a key for a football player being successful. It doesn?t matter whether it?s an offensive player driving the …
Monthly Q&A with Hall of Fame Coach Lou Holtz
SUPER SPRING SPECIAL ON THE LEGENDARY AIR RAID SYSTEM    Once a month, legendary football coach Lou Holtz will respond to your questions. This month the question is from Bob Korenic, an assistant coach at Lowellville High School in Ohio. Question: ?I?ve been an assistant coach at a small school that has struggled over the …
Beyond The Scoreboard ? Hold the Mayo
Beyond The Scoreboard Hold the Mayo By Eddie Fields, Teacher and Coach Space Coast High School, Cocoa, FL I love cheeseburgers?irrationally love the things. The best one I ever had came from a Mexican joint in Fayetteville, North Carolina. When I show up to a restaurant, I don?t even look at the menu. I order …
Inside Veer: How Adding a TE Gives You an Advantage on the Defense (Part II)
Inside Veer: How Adding a TE Gives You and Advantage on the Defense (Part II) By Payton Haynes, Offensive Coordinator, Luther College 3-4 Defense ? Adding TE to the playside Adding a TE to the playside of the formation against a 3-4 or an odd front defense can give you an extra blocker to help …
Home | Magazine | Back Issues | Shopping | Subscribe | Contact

Girdiron Strategies
600 Sandtree Drive, Suite 107
Palm Beach Gardens, FL 33407

1-800-537-4271

Copyright 2017, Gridiron Strategies
a division of
AFM Media, LLC.
All Rights Reserved.