Overwhelming the Opposition - An Inside Look at the Up-Tempo Offense

Back
|

Printer Friendly
©
August, 2014
by Henry Stanford
Assistant Head Coach and Offensive Coordinator Hiram College
Players that can play multiple positions increase your chances of success with the up-tempo offense.
The up-tempo offense can place a lot of stress on a defense. The defense has to worry about substitutions, formations, and locating key players while attempting to get lined up. This style of offense places stress on coaches and presents an overwhelming task. Coaches have to determine the personnel, make calls, identify formation strengths, and teach their players to have eye discipline while under stress and/or fatigue. This will focus some base concepts of the up-tempo offense and the ways it can overwhelm an opponent.

In talking to colleagues that run the up-tempo offense, total program commitment is paramount to successful production. The decision to run this offense must be a program commitment. Running this system with a fully committed staff will greatly impact your program. The way you train, coach, game plan, and organize your game management will be centered on the up-tempo. If this style fits your program mission and vision, you want to start with analyzing your playbook.

The Playbook

The main goal of this offense is to increase the tempo of play. This will start with play selection. The most efficient plays are ones that can be run versus any front or coverage. The neutral plays are not limited to running only to the three technique or only versus cover 2. They are plays like the inside/outside zone or pass routes that can adjust to coverage. You want to build a system that fits your players' strengths and allows them to play fast. The schemes should have carry over from play to play. Understanding your identity as an offense will guarantee the appropriate plays are selected. With the playbook in place, you will next want to take a look at your personnel.

Flexibility of Personnel

The best up-tempo offenses possess personnel that can play multiple positions. This flexibility and tempo can lead to big play opportunities on every series. Having athletes that can play TE/FB, TE/WR, and WR/RB can allow you to run multiple formations with no personnel changes. This can make your offense flourish and rise to new heights. Once you're done with organizing plays with personnel, you can move on to communication.

Communication Method

With your playbook established, you must communicate the call quickly. You want the communication both verbal and nonverbal to be consistent and understandable. One method is to have single word or signaled calls. This will allow you to communicate the play fast without delayed recall.

Keep in mind the same process coaches have used for years with wristband calls. If the play call is too long to signal/call, you would place it on a wristband. The same thing holds true to your signals/call. If they are too long, cut them down. The key is speed. You can provide your players one word that tells them an entire zone read/pass/screen packaged play. While developing your system and its method of communication, you must look at play-calling sequences and styles.

Rate of Play-Calling

The rate and operation of your play-calling system is very important. The calls must come in quick, while continuously analyzing the opponent. You want to stay ahead of the sticks and your opponent. Most up-tempo offenses have an overall goal to snap the ball as many times as possible. This usually falls into the range of 70-80 plays or more per game.

I want the most opportunities to score points. With this offense, you will have opportunities to score quickly with limited plays. That is fine, but you want more snaps. More snaps equals more opportunities to score. The system and the method of communication for play-calling has now been defined and established. Now, practice is the venue to reinforce your system.

Speed of Practice

You want to push the pace while having a goal of snapping the ball as many times as possible. This starts with practice. You want to coach off the film and provide instruction in brief statements both on the field and in the classroom. You want to provide an environment of fast play and quick decisions. You want to put your players through a multitude of stress. You want this stress to happen during moments of fatigue simulating game scenarios. Practice will start with a tempo drill.

During this drill you are working on your verbal and nonverbal communications. You want to set the tempo early and often. By setting this tempo, you are able to help your players become comfortable under fire. Once this environment has been set, your offense is ready for game preparation. One of the weapons is packaged plays.

Packaged Plays

When you add packaged plays to your system, it will continue to apply pressure to your opponent. One play example is a combination run/pass/screen option for your quarterback. The theory is to choose play options where there is an advantage. The diagrams describe one type of packaged play. Included is a 2 x 2 and 3 x 1 set as examples (Diagrams 1 and 2).



Diagram 1: 2 x 2 Set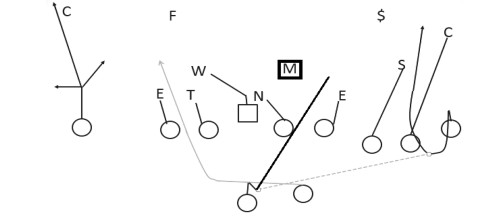 Diagram 2: 3 x 1 Set
"Terrier"

Offensive Line
• Blocking inside zone (backside will zone first level – backside backer is QB key vs. a 6-man box)

Running back
• Run inside zone

Playside wide receivers
• Run routes

Backside wide receivers
• Run screen

Quarterback
• Read defense
• 3-5 Man Box (Run Zone Read)
• 6-8 Man Box (Throw to Numbers Advantage)

We feel the up-tempo offense has placed a lot of stress on opponents and helped us neutralize superior opponents. This system has allowed us to be productive. It has changed the way teams defend and how opposing offenses manage the game if they are not running the up-tempo. It can be overwhelming for an opponent and it makes them spend more time modifying their operations. We like it and are looking for more offensive production.

About the Author: Henry Stanford is in his second season on the Hiram College staff, serving as assistant head coach, OC and quarterbacks coach. He previously was the head coach at Capital University. Stanford has also coached at Elmhurst College, Tiffin University, Kenyon College and Otterbein University. He has a Bachelor's Degree from Ohio State and a Master's Degree from Tiffin.

Sign Up for the Play of the Week Newsletter