Using the Tight End to Dictate Defenses and Gain an Advantage

Back
|

Printer Friendly
©
June, 2013
by Dustin Hada
Defensive Coordinator/LB Coach, Olivet Nazarene University
You can dictate the defensive front and tempo by utilizing a system of multiple formations and motions without changing personnel.
The no-huddle offense run with multiple tempos has taken over football at all levels. We have developed a system that allows us to use the no-huddle, up-tempo style using multiple formations without substituting players. Our entire offensive system revolves around the multiplicity of our TE (Y). We utilize our Y in multiple formations and motions. This gives us three advantages:

• Dictates the defensive front.

• Allows us to be multiple with our formations without changing personnel.

• Quickens our offensive tempo.

TYPE OF ATHLETE

The type of player that we look for at our Y position is very specific - he must be a great athlete. We look to recruit players that are the total package; that is, big and fast, having great hands, a courageous blocker, and smart. We have Ys that are great basketball players, and some have played other football positions in high school. Often, big QBs or big outside WRs are the players we try to convert to Y. The Y position is probably our most scrutinized position in offensive recruiting because of its importance in our scheme.

DICTATING DEFENSIVE FRONTS

We use our Y to dictate the defensive front in multiple formations. Our base personnel is two outside WRs, one slot WR, one TE, and one tailback. From this personnel grouping, we can line up in multiple spread or power formations and use motions to gain a numbers advantage in the run game (Diagrams 1A -1D). Most of our run game is called based on the location of the A-gap defender. By using the Y in the slot, as the third WR in a trips formation, as a true TE, as a wing, or as an I-formation fullback, we can dictate the alignment of the A-gap defender.

Diagram 1A.


Diagram 1B.

Diagram 1D.


Diagram 1D.

Once we have the defense set, we can use short motions to gain a numbers advantage at the point of attack. This is a nice advantage when planning vs. a field/boundary type of defense. For example, if we want to run a stretch play to the A-gap defender, we will call our "off" formation into the boundary, then simply use short motion to the field to gain our advantage (Diagram 2). Another way to try to get the numbers on our side is to start the Y in the backfield, as an I-team fullback, or 20 personnel look. We usually use slide motion to get the Y to the point of attack (Diagram 3).

Diagram 2.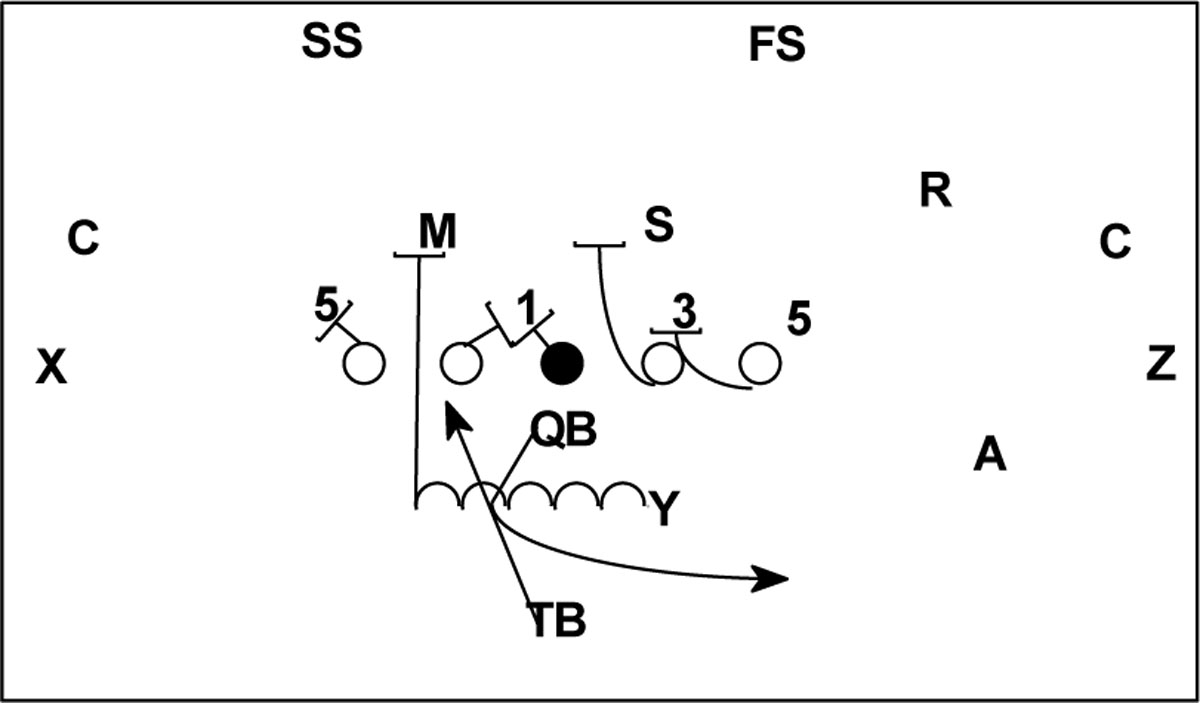 Diagram 3.

SPEEDING UP TEMPO

Keeping the same personnel on the field allows us to speed up our tempo without compromising the amount of formations, or number of plays that we can utilize. In our fast tempo, with base personnel, all we have to signal is the formation and play. All of our formations are called with a poster system (colors, numbers, letters, etc.), and all of our motions and plays are hand signals. This gives us a significant advantage vs. teams that love to substitute players based on down and distance.

RUN GAME INSERTION

When we first implemented this system, one of the problems we ran into on the offensive line, was that the linemen were not sure when we were running a two-back (motioning the Y as the second back) or a one-back blocking scheme (using Y as a true TE, or Y split out with no motion). To solve that problem, we inserted each play with a motion and then a non-motion scheme. The QB will use a call word "YAC" (Y across) to the OL if a play has motion so they will know which scheme to use. For example, our non-motion stretch play has the entire OL reaching play side while our motion stretch play has the Y and playside OT use a pin and pull scheme. When the playside OT hears a "YAC" call attached to the number for stretch, he knows that the Y is going to pin the DE so he go pull around him. This way the OL doesn't need to know what the formation or motion is. They just need to know if there is motion or not.

By utilizing a system of multiple formations and motions, without changing personnel, we can dictate the defensive front and tempo. We can also better scout and game plan our opponent and have a simpler call sheet week-to-week.

About the Author: Dustin Hada is the OC and offensive line coach at Southwestern Oklahoma State University. He is also an instructor in the college's Department of Kinesiology. Hada previously served as both defensive coordinator and strength and conditioning coach at Olivet College for nine seasons. He holds a Bachelor's Degree from Midamerica Nazarene University and a Master's from Olivet Nazarene University.