What a Rush - Defensive Line Drills to Improve Your Pass Rush

Back
|

Printer Friendly
©
December, 2012
by Leon Criner
Defensive Coordinator • Los Angeles Valley College
There are everyday drills that a coach uses in practice, including both tackling and striking drills. You shouldn't run a drill just to be running it. You can't expect your players to get better if you run so many drills without assessing how well they perform in each drill. For example, almost every one of these drills can be turned into conditioning exercises simply by extending the time.

There is nothing more important in our program than the drills we use. The Quarter Eagle and the Hit Progression drill should be the foundation of your program. Once you have established these drills, you can move forward to other drills.

In selecting a drill, there are a couple of things you need to consider. The number of drills, the length, tempo, number of players involved, and the result you want are but a few.

1. Length - Generally, for an individual drill, a rule of thumb is six seconds. Any longer and you're into a conditioning drill.

2. Tempo - Can you get the same results if you go half speed as you can if you go full speed? I know there are times when a coach has to go less than full speed. But, understand that this will possibly carry over to your game. You cannot go "dummy" all week and expect your players to suddenly go live when the whistle blows. If you're fearful of injuries, go full speed in small groups and have a quick whistle.

3. Number of players - Try to keep the number of players in a drill as small as possible. Normally, if more than two players are involved, it's difficult to make individual corrections. Fortunately, today we have videotape. This allows us to see more and make corrections when necessary.

4. Results - The bottom line. Does the drill make my player better? Even if you aren't getting positive results, don't be too quick to scrap the drill. Some drills take more time to be effective. If you jump from one drill to another without getting good at any of them, confusion will ensue.

Here are some coaching points to remember while practicing drills:

• Since the beginning of the game, two things haven't changed. The team that wins is the one that tackles and blocks best. Stress fundamentals.

• In order to do this, your players must bend their knees and move their feet.

• Every drill must simulate game conditions.

• Any drill that takes longer to explain than run is not effective.

• Too many drills never allow players to master any. There's a fine line between too many and too few.

• Require players to do drills correctly.

• Move from drill to drill quickly, but not at the expense of correctness.

• Drills must be repetitive in order to build 'muscle memory.'

• The average play lasts six seconds, as should most drills.

• Try to add some fun to the drills.

• Make conditioning drills Navy Seals-like; that is, they must be done correctly or everyone suffers.

Here are four different drills that should be helpful to your program – The Get Up and Go Drill, the Pick Up and Go Drill and two variations of the Quarter Eagle Drill.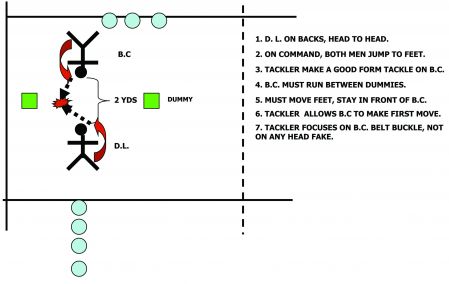 Get Up and Go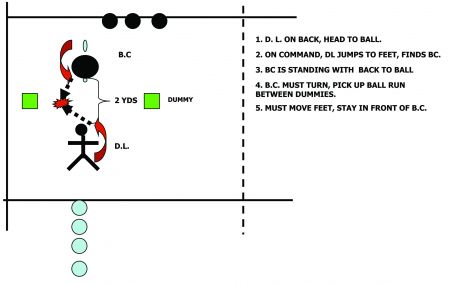 Pick Up and Go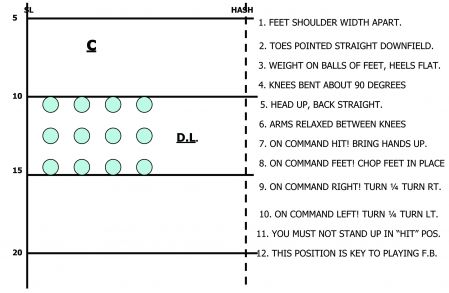 Quarter Eagle Variation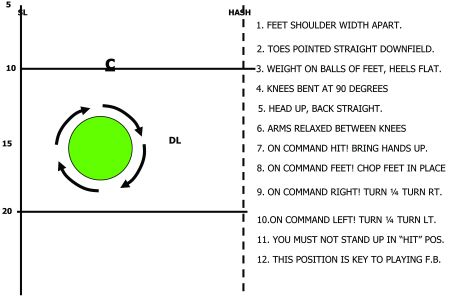 About the Author: Leon Criner played QB at Valley College in the mid-1950's before transferring to Oregon State and playing for legendary coach Tommy Prothro. He began his football coaching career in 1964, which has now spanned four decades. He's coached at Cal Poly, Allen Hancock University, and College of the Canyons and joined the staff at Los Angeles Valley College in 2004. Criner is presently both the Assistant Head Coach and Defensive Coordinator.

Sign Up for the Play of the Week Newsletter