PUTTING DEFENSES IN A BIND - How to Use Multiple Wing Formations to Your Advantage

Back
|

Printer Friendly
©
August, 2012
by John Sarianides
Head Coach • Norwood High School (MA)
We are a multiple offense that likes to take advantage of multiple formations and personnel groupings. Over the course of the past few years, we have developed our offense by adding various elements of other offenses we have used in the past. We play in one of the best leagues in eastern Massachusetts and for us to compete on a yearly basis, it is imperative that we be multiple. The core of our offense is the I-formation but, as we took a longer look at what we did as a staff, we realized that we couldn't just get into a spread set when we wanted to change offenses. That's when subtle changes were made to our system.

Traditionally, most I offenses attack defenses in the run game straight ahead without much variation from the fullback in terms of his alignment. In the past, we have moved our receivers around in an effort to get defenses to adjust their fronts (Diagram 1). By doing this, we could get better blocking angles because the fronts were more balanced and they had to adjust. However, we found that we couldn't just use a slot, offset fullback or spread I-formation set to achieve success in our run game because linebackers were identifying flow and getting to the ball. We decided that we needed to find a way to change our two-back running game by taking the fullback or tight end out of the equation.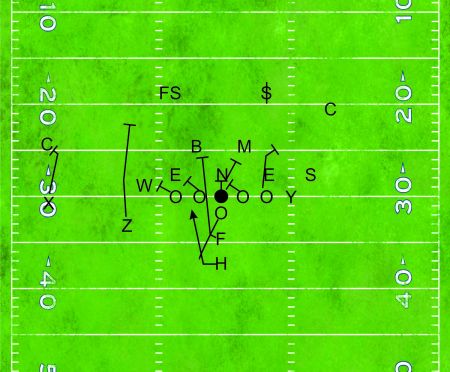 Diagram 1: Lead out of an I-Slot Set
I decided to tap into my Wing-T background so I began looking at various sets that I have used in the past. I also studied college and NFL teams and how they utilized sets with wings. The first formation we developed was the Dual Formation (Diagram 2). Because we liked running slot so much, we decided to keep the slot concept but lined up our fullback as a wing on the tight end side. The next step was to expand our motion package so we introduced "Buzz" motion (Diagram 3) as a way to get our fullback moving and in the proper alignment. The first play we developed and used effectively was Dual Right Buzz 24 lead (Diagram 4). Defenses typically struggle with how to defend wing formations so we decided to expand our package further.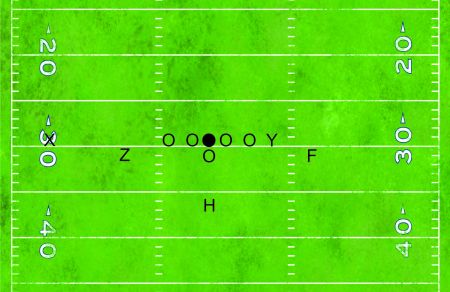 Diagram 2: Dual Formation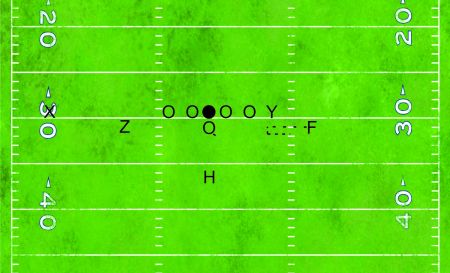 Diagram 3: Buzz Motion
Diagram 4: Dual Rt. Buzz 24 Lead
We are a multiple team offensively so we also run a fair amount of one-back as well as spread sets. The next step in the progression of this wing package was to expand to the single back portion of our offense. We already ran one-back that varied in personnel groupings so we decided to take some of our most common sets and move around some of the pieces to get more wing formations. The first formation we changed was our Trey set. We took the slot receiver out of the game by using a basic personnel grouping and moved the fullback to the wing. By doing this, we now had the ability to run our I run game out of one back. For example, our power play was getting a bit stale so we now run it out of Trey Wing (Diagram 5). With the formation adjustment, we can run Trey Wing Rt. Buzz 26 Power (Diagram 6).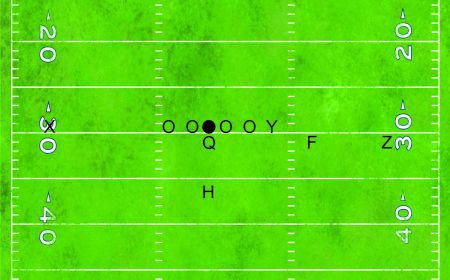 Diagram 5: Trey Wing Rt.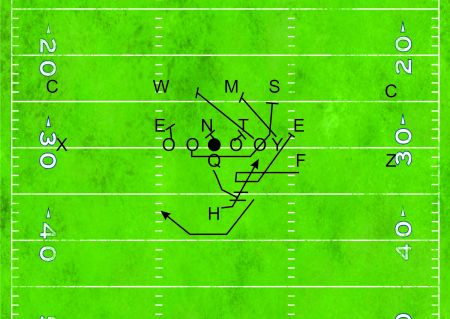 Diagram 6: Trey Wing Rt. Buzz 26 Power
Now that the package was in place, we took some of our traditional spread sets, ran them out of basic personnel and turned them into winged formations. Bunch has been a big part of our offense so we turned bunch into a wing formation and the end result was a spread set that enabled us to run our power game from a different look. One of our best plays is Bunch Rt. Boom Lt. 27 Toss (Diagram 7). Boom motion brings the fullback across the formation and allows us to attack the weak side.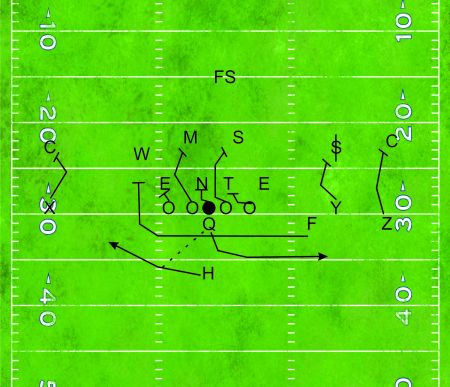 Diagram 7: Bunch Rt. Boom Lt. 27 Toss

Traditionally, trips has been a passing, screen formation for us so we decided to turn it into a running formation. Prior to adding the wing, we mostly ran zone, toss and counter out of our trips package. Now we use our basic offense, get into the formation and can run the previously mentioned run plays as well as our I-run game. We can also run our I play-action game out of our wing sets. Play-action has been good to us in recent years, especially out of our expanded sets. Just like most teams, curl-flat is an integral part of our passing attack. In Diagram 8 we run Trips Wing Rt. Act One Curl. The call consists of the formation, protection and route combination. We have also utilized winged formations in our drop game as well. In Diagram 9 we are using our Dude formation which is similar to Dual. The play call is Dude Rt. Boom Rt. Mac Star.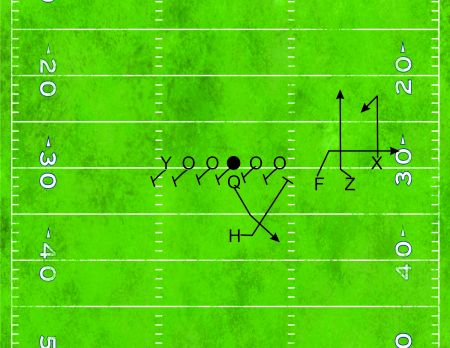 Diagram 8: Trips Wing Rt. Act One Curl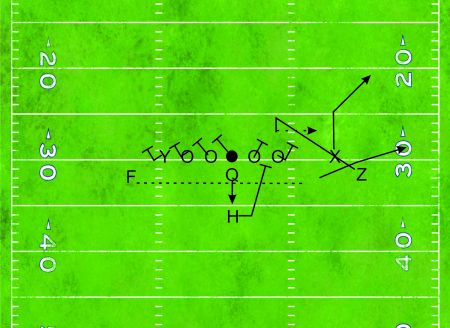 Diagram 9: Dude Rt. Boom Rt. Mac Star

As much as we like our wing package, the one thing we didn't want to do is forget about our bread and butter, the I-formation. It was with this thought that we decided to mesh our I with the wing look. Developing additional sets and wrinkles was essential to us having success with this package. In Diagram 10 we incorporated the I-Wing formation. We found that it is effective against 50 fronts especially when you want to run front side.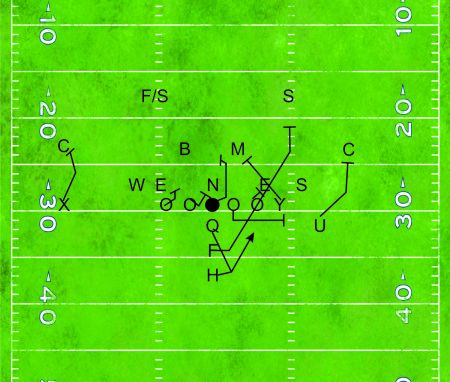 Diagram 10: I Wing Rt. 26 Power "G"
The final phase of our wing package that we implemented was the step-off package. By getting into our flankers personnel (2 TE, 2 WR, 1 RB) we can either spread a defense out or step-off the tight end and utilize our wing concept and mix in our power run game. In Diagram 11, we use our Toff motion which means tight end off. We stepped him off, put him in motion and ran weak side power with him.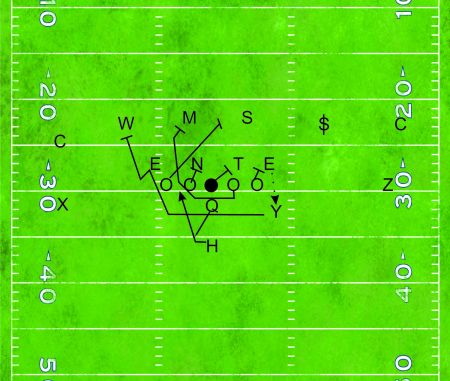 Diagram 11: Flankers Rt. Toff Lt. 25 Power
We didn't drastically change our offense when we wanted to give defenses another look. We believe that we are at our best when we show our opponents multiple sets and personnel groupings. It works for our players and it allows us to be competitive. Whether you are running the spread, spread option or just a basic I offense, adding wing formations to your offense will give your opponents fits and give you a distinct advantage.

About the Author: John Sarianides is the head coach at Norwood High School. He previously was the Offensive Coordinator at King Philip Regional High School in Wrentham, Massachusetts. Sarianides was also the Offensive Coordinator at Norwood before joining the staff at King Philip. He received his Bachelor's Degree from the University of Massachusetts in Boston.